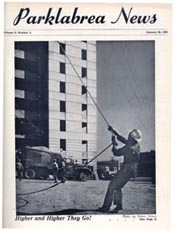 hen the Park Labrea was built in 1946, it was touted as the largest apartment community West of the Mississippi. Suddenly, an entire neighborhood sprang up in the heart of the city. The residents of Park Labrea began distributing a newsletter throughout the complex, and within a few months, the "Parklabrea News" was born. By 1948, an established newspaper man, Joseph Duplain, took over and converted it into a newspaper. In the mid-1950s, Nan Dayhoff became editor and ran the paper for the next 20 years, publishing twice a month. In the 1970s veteran TV newsman Charles "Chuck" Riley acquired the paper. In 1990, the newspaper was sold to current publishers, Michael and Karen Villalpando, who took over the reins on January 1.
The Park Labrea News became weekly in June 1990, and expanded its circulation to 5,000 in the heart of the neighborhood, including Miracle Mile, Hancock Park and the Fairfax district. By 1991, the circulation was expanded again and the name Beverly Press was added to the original Park Labrea News masthead.
oday, the weekly circulation of both papers is over 13,000, with full color throughout. Our goal for the last 20 years has been to provide the best local news coverage to the residents of Park Labrea, Hancock Park, Miracle Mile, the Fairfax District and West Hollywood. Every Thursday, the Park Labrea News & Beverly Press arrives on your doorstep bringing you the most up-to-date news and information about your community. Our editors and reporters are trained journalists focusing on hard news. Our staff includes Editor Edwin Folven, staff writer Aaron Blevins, restaurant critic Jill Weinlein, columnist Madeline Shaner, movie critic Tim Posada and advertising sales representative Laura Vaillancourt.
The Park Labrea News & Beverly Press are now partnered with the Los Angeles Times for distribution services. Every week, Los Angeles Times readers in Miracle Mile, Hancock Park and West Hollywood areas will also receive the Beverly Press, or Park Labrea News, wrapped with their newspaper and delivered to their front doors. A joint subscription program is ongoing.
For advertisers, this is great news, as the Park Labrea News and Beverly Press a 100% paid subscription product, reaching a demographic that is highly educated with high household incomes and tremendous spending power.
To our readers, we thank you for supporting the efforts of the newspaper, and always look forward to your commentary and letters. Click here to send us an email: editor@beverlypress.com.
The newspapers remain independently owned and operated by publishers Michael and Karen Villalpando.